Davidson's Patio blinds Ballarat
The perfect solution for outdoor cover
We all love spending time outside and when it comes to pergolas, verandahs and outdoor living and entertaining areas, you can't go past Davidson's Patio Blinds.
Patio blinds are the perfect way to enclose these special places, making the space private and comfortable by protecting you from the ravages of sun, wind and heat.
Davidson's Patio Blinds Ballarat are very user-friendly. They are very easy to use with a choice of controls. Options include spring operated, rope and pulley, gearbox driven and motorised. You can customise your patio blinds further to suit your situation with some very clever installation options.
Including a wide range of fabulous fabrics, textures and combinations available so your Patio Blinds will not only be functional and valuable, they'll also impress your visitors.
Patio Blinds Benefits & Features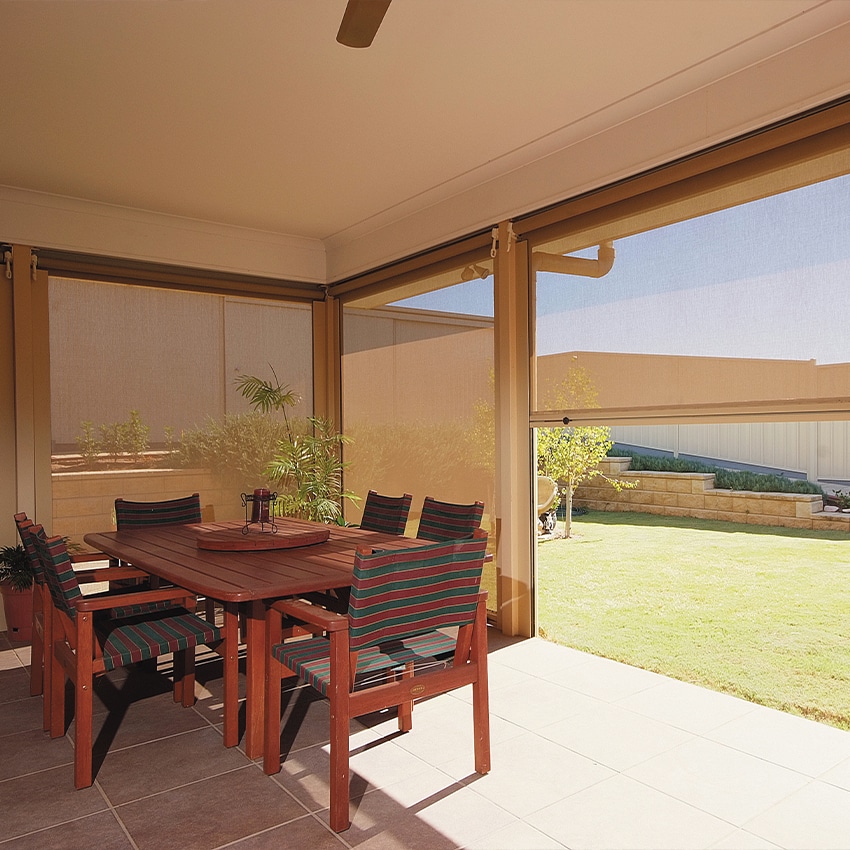 additional product information
Options available
Componentry Options
Spring operated
Rope and pulley systems
Gearbox driven system
Motorised system
Sympathetic Hoods,Cover, Fully Enclosed headboxes in a variety of colours
Fabric Options
Available in clear PVC, mesh or solid canvas fabrics
A wide range of fabric and textures available to suit your requirements.
Call a Davidson's Sun Blinds Ballarat consultant today on 5333 3066 to advise you in all the options available.
Specifications
Sizes Available
Sizes can be customised to requirements.
Call a Davidson's Sun Blinds Ballarat consultant today on 5333 3066 to advise you in the complete colour options available and specifications.
Product Highlights
Energy Benefits
When it's warm outside, we're often aware of keeping exterior doors shut, but it may surprise you to learn that much of the heat inside your home, comes via the windows. Patio Blinds can reflect more than half the heat that would otherwise enter your home. This is especially important in outdoor entertaining areas, verandahs and pergolas, where we want to escape and cool down when the mercury rises. Likewise, when the weather is cold, we want to enjoy these spaces and, again, Patio Blinds can be neatly rolled up to allow the winter sun to stream in and warm your verandah, pergola or outdoor entertaining area. Davidson's Patio Blinds Ballarat are an excellent way to manage the temperature in your outdoor entertaining areas and they also reduce fading of your valuable outdoor furniture and furnishings.
Add value to your outdoor area
Davidson's Patio Blinds Ballarat are designed to maximise the use of your outdoor areas all year around without necessarily creating a visual barrier. They virtually add an extra room onto your home and are easy to expand and retract, with many different options.
Free measure & quote
Free Measure & Quote Areas
The main areas that Davidson's Blinds and Shutters service are: Ballarat, Daylesford, Creswick, Hepburn, Hepburn Springs, Ballan, Meredith, Elaine, Clarendon, Bacchus Marsh and Buninyong.
Call Davidson's Blinds and Shutters today on (03) 5333 3066, or email enquiries@davidsonsblinds.com.au Davidson's Blinds & Shutters is an industry leader constantly sourcing cutting edge products to satisfy all market needs. Our products have been lovingly made by locals for locals for over two decades.