Davidson's Roller Blinds Ballarat
A functional way to control levels of light and privacy.
Pull them down for privacy, roll them up and they virtually disappear from your window leaving you to enjoy the view outside. 
The simplicity and easy operation of roller blinds has made this style a traditional favourite in Australian homes, but advances in fabric performance and technology has added new versatility.
We take child safety very seriously at Davidson's and we want to ensure that all blinds in Australia have a proper child safety device installed to comply with the Australian Child Safety Laws. We also provide a range child safe cordless products for total peace of mind.
Roller Blinds Benefits & Features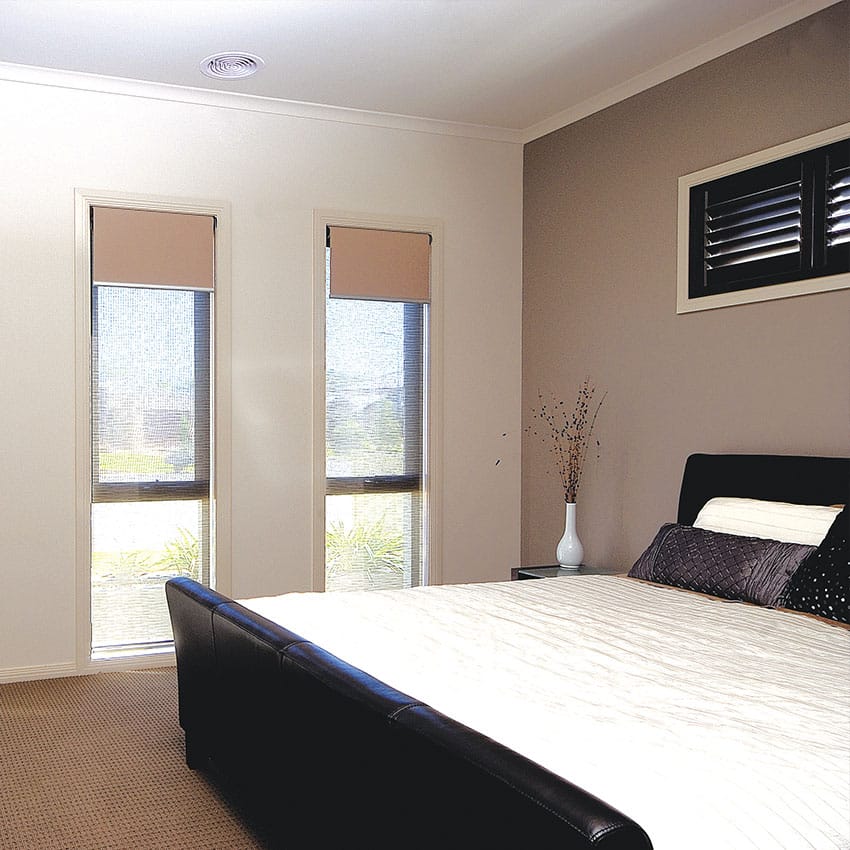 additional product information
Options Available
Componentry Options

Single Brackets
For a single roller blind.
Double Brackets – Dual Roller Blinds
Combine double roller blinds – a sunscreen and a block out roller onto the one bracket for the ultimate light and privacy control.
Linked Brackets
Link two roller blinds together to enhance functionality over larger areas.
Heavy Duty Brackets
We can manufacture roller blinds up to 3m wide (some restrictions apply).
Mortorised Options
Motorisation
 Chains are replaced with an unobtrusive motor system and a modern compact remote which operates the blinds quickly and quietly. Making the system completely child safe and eliminating the use of dangerous hanging chains.
Fabric Options
The Budget Range
Over 35 colour options to choose from to suit any budget.
The Standard Range
Is a Polyester fabric with an acrylic coating suitable for all rooms of the house. The fabric is mould, mildew, fade, dust and fire resistant and all colors in the range are 100% blackout.
Executive Range
Available in a translucent or blockout option the Polyester fabric adds a touch of luxury to any room. Including a variety of different options including Teflon Fabric Protector and a range of blockout and translucent decorator colours.
Call a Davidson's Roller Blinds Ballarat consultant today on 5333 3066 to advise you in all the options available for all Roller Blinds.
Sizes Available
The Budget Range
Max Width: 3000mm – Max Drop: 3000mm – Over 30 colours to choose from.
The Standard Range
Max Width: 3000mm Max Drop: 3000mm- Over 30 colours to choose from.
Executive Range
Various sizes available Max Width: from 2800mm to 3000mm Max Drop: 3000mm – Over 40 colours to choose from.
Call a Davidson's Roller Blinds Ballarat consultant today on 5333 3066 to advise you in all sizes, colour and specifications and options available.
product Highlights
Energy Efficiency
You may not have thought about how roller blinds can help your energy consumption but they will. Over 30% of unwanted heat loss in winter and heat gain in summer takes place through windows. Reduce that heat transfer and you can reduce your power bills. Davidson's Roller Blinds Ballarat helps you create a safe and comfortable environment where glare and temperature can be controlled.
Privacy & Wearability
Different rooms have different privacy issues, which is especially true in bathrooms, bedrooms and children's rooms. Roller blinds have the versatility to perform anywhere. Bathroom blinds can be treated to resist moulds and children's blinds can be protected to resist the dirt and stains that little fingers often leave behind. Of course you can save finger marks and stains by having your roller blinds motorised and operated using remote control, switch or timer controls. You can relax knowing you haven't just been guided by fashion but by practicality. Your beautiful window solution will be a lasting one.
Total Sun Blockout
One of the most functional ways of managing heat and light, your roller blinds can provide total sun blockout or allow filtered light into your rooms. It is not only the functionality that makes Davidson's Roller Blinds Ballarat so appealing; it's the clean, uncluttered look at your windows that makes its own style statement. You want your home to look open and inviting and roller blinds keep it that way. Choose a neutral colour to provide calm serenity or use your windows as a giant canvas and complete your décor using the Davidson's palette of colours and textures.
Free Measure & Quote
Free Measure & Quote Areas
The main areas that Davidson's Blinds and Shutters service are: Ballarat, Daylesford, Creswick, Hepburn, Hepburn Springs, Ballan, Meredith, Elaine, Clarendon, Bacchus Marsh and Buninyong.
Call Davidson's Blinds and Shutters today on (03) 5333 3066, or email enquiries@davidsonsblinds.com.au Davidson's Blinds & Shutters is an industry leader constantly sourcing cutting edge products to satisfy all market needs. Our products have been lovingly made by locals for locals for over two decades.