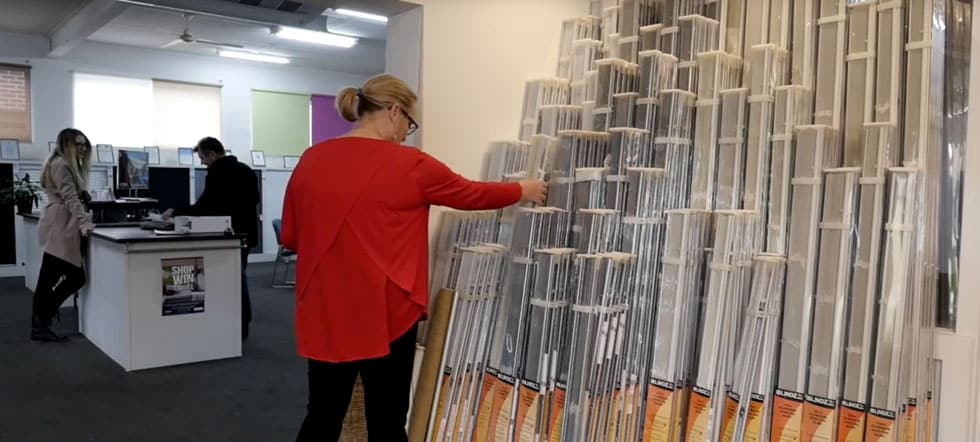 When choosing blinds for your home, your business, or for a large commercial project, you are completely spoilt for choice. There are a wide range of blind colours, blind styles and blind sizes to choose from, but how do you know what blinds will suit your individual style and decor?
For more than twenty years our team at Davidson's Blinds and Shutters have been helping our Ballarat customers choose the right blinds. One question to think about is would you like ready made blinds "off the shelf", or are you thinking of custom made blinds that are made to measure? Let us explain these two options in more detail to help make your decision easier.
What are Ready Made Blinds?
Ready made blinds are blinds that are already made and selected straight "off the shelf". If you know your blind measurements, then you can come straight into our Ballarat Showroom and select the right size that you need from our ready made blind department, or we can trim our ready made blinds to suit your window size.
What are Custom Made Blinds?
Custom Made Blinds are made to order blinds based on your individual requirements, style and measurements. With our custom made blinds you choose your size, your style, your colour and your fabric from our wide range of beautiful Australian made options, therefore your blind will be a perfect fit every time.
What are the Benefits and Disadvantages of Ready Made Blinds?
Ready made blinds are a fast and affordable option, as they are already made.
Ready made blinds can be installed yourself which can save you time and money. Although some people may not feel confident installing ready made blinds, so this can be a disadvantage depending on your ability to do blind installations.
Ready made blinds in our "Custom Size Now Range" can be trimmed to match your specifications.
If you're after a quick replacement for a standard damaged blind, then ready made blinds can be a great option.
The disadvantages of ready made blinds are that although affordable, ready made blinds have extremely limited sizes, styles, colours and fabrics.
Ready made blinds also do not have the same high quality fabrics as custom made blinds, this is why they are more affordable.
What are the Benefits and Disadvantages of Custom Made Blinds?
Custom made blinds are made to fit your windows perfectly, which is ideal for windows that are an unusual shape and size.
There are so many choices of colours, fabrics, styles and sizes of custom made blinds, so no matter what decor or area you are fitting blinds, you know they will look fantastic!
We also have colour and fabric samples for you to see before making a purchase. Our Ballarat Showroom also has a wide range of blind colours, styles and fabrics for you to see to help make your choice easier.
Our team provide professional measure and quote and blind installation for custom made blinds, so you won't need to worry about a thing.
Our custom made blinds are of the highest quality, are Australian made, meet all Australian standards and come with our 4 year warranty.
The disadvantages of custom made blinds are they of course cost more, but as the saying goes, "you pay for what you get".
Custom made blinds also take longer to make, so you will need to allow for this when making a choice.
We hope this information has made your decision a lot easier. For more information please contact us on 5333 3066, or please visit our Ballarat Showroom at 617-619 Howitt St Wendouree.