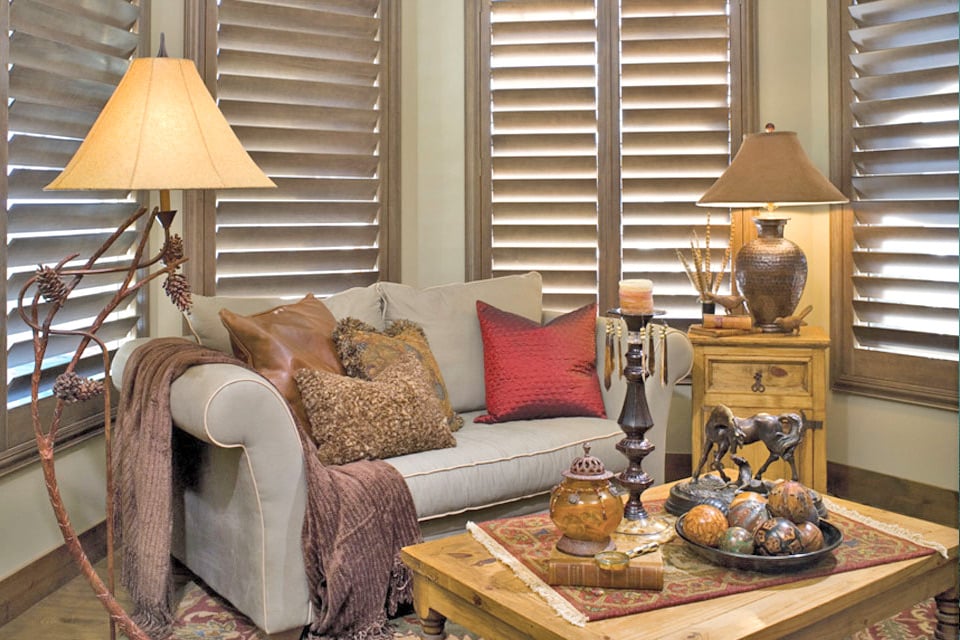 So you've built your dream home or the office that you have always wanted and it's now time for dressing your windows, but what do you choose, blinds or shutters? When people research online for window furnishings, at Davidson's Blinds and Shutters we have noticed that they may search for the term "shutter blinds", but this may not take them to the information they want, as shutter blinds are two completely different terms.
Let us explain in more detail.
What are Blinds? Blinds cover the window completely and the usual classical style fabric blind lifts up or down with a cord or motorised control system. Blinds come in a variety of shapes and sizes and can be custom made to fit your windows, or purchased directly off the shelf known as "ready made blinds".
What are Shutters? Shutters are a solid, fixed, stable window covering consisting of a frame of vertical and horizontal rails or louvres which can be opened or closed to vary light entering. Shutters are usually made of wood, PVC, vinyl or aluminium. Shutters can be used inside your home or office, or on the external windows of your home or office, depending on the style and amount of light and privacy you require.
Over the past few years shutters have become a very popular choice for many of our customers due to being available in a range of different styles and finishes. Shutters can also suit any style of home or office including Federation, Edwardian, Art Deco styles, or more Modern and Contemporary styles. The type of shutters we have available include our popular Timber Shutters, also know as Plantation Shutters. We also have Roller Shutters and a range of Exterior Shutters for the outdoor windows of your home or office.
Timber Shutters – Our Timber Shutters come in a hinged, fixed, sliding or bi-fold style. They are available in a timber or synthetic material and a range of colours. Timber Shutters can add a lot of style and compliment your home or office decor. Shutters are also available in an aluminium style which may be more suitable in wet areas such as the bathroom and kitchen, as timber can warp in these areas.
Roller Shutters – Are shutters that are fixed into a door or window frame and can be rolled down to provide security or protection. Roller Shutters are available as roll shutters, security shutters, electronic shutters or manual shutters depending on the requirements you have. Roller Shutters also provide noise insulation and many customers choose them for their energy efficient qualities.
External Shutters – If you are wanting to deter thieves or if you would like to add some style to your outdoor area, then External Shutters may be right for you. External Shutters also protect you from heat, glare and the cold and can include added features such as key locks and flush bolts for added security. Our Exterior Shutters are also durable and require limited maintenance, so they are the perfect choice for the patio, balcony or alfresco areas.
We hope this information helps make your decision a lot easier. At our showroom in Ballarat we have a range of shutters available to view and purchase, so if you prefer to see the real product instead of searching online at our website, then please come along and let our friendly staff show you around!