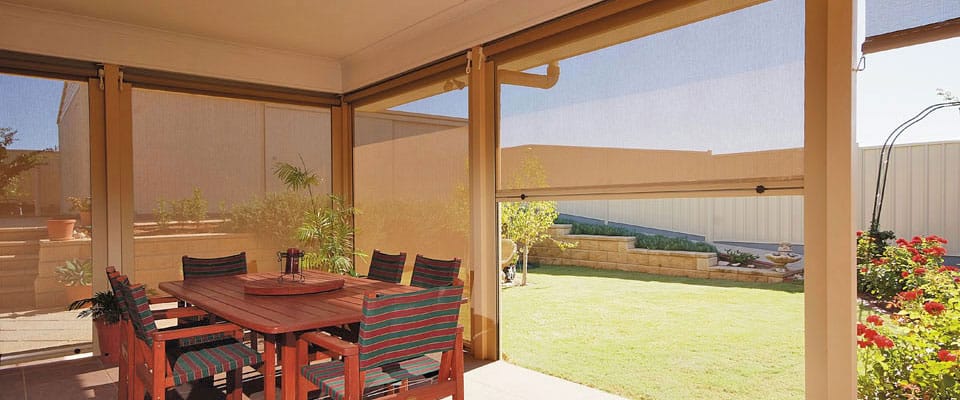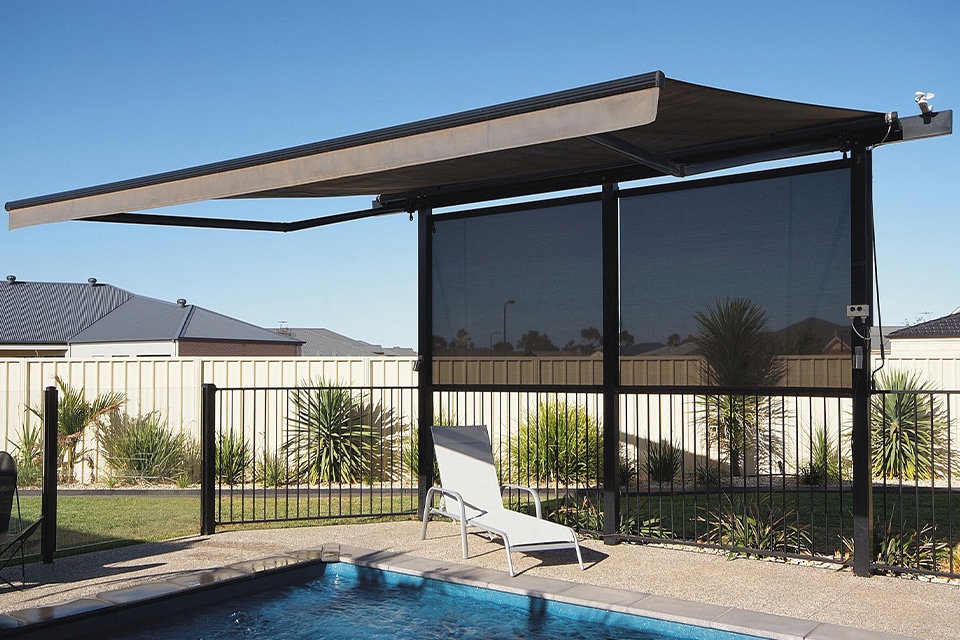 Our Ballarat customers are so fortunate to have a wide range of beautiful outdoor blinds to choose from and two of our most popular styles are the Folding Arm Awning and Retractable Awning. Manufactured to the highest quality and beautifully designed, our range of awnings not only add value to your home or business, but they allow your outdoor area to be used more frequently and keep your visitors and customers comfortable.
Outdoor Awnings Explained
Outdoor awnings are an excellent external blind to expand your use of the great outdoors. They are ideal to reduce sun glare and can reflect up to 70% of heat to keep your home and business cooler. Outdoor awnings also provide more shade and are versatile, cost effective and easy to clean. There are two types of Davidson's Ballarat awnings available;
1. Folding Arm Awnings – are a flexible outdoor awning which can attach to an external wall of your home or building, or stand alone independently through strong supports. They are ideal to expand your outdoor space or provide shade across your windows, your seating area, patio, balcony, pool or bbq area. The awning extends in and out to provide full coverage and a wide range of quality fabrics and colours are available to suit your individual style.
2. Retractable Awnings – are a flexible fabric tension system that is perfectly suited for conservatory situations, as well as pergola areas. Retractable awnings are made from our high grade aluminium and stainless steel parts allowing the whole unit to be powder coated with a wide variety of colours. Retractable awnings use a motorised system, so they are very simple to use and very stylish.
What are the Benefits of Outdoor Awnings?
Outdoor Awnings provide many advantages to increase the value of your home, or commercial space. You may have an area that gets too much sun, or you may want to increase your overall privacy, outdoor awnings can do this. 
Some of their benefits include;
1. Provide Shade
Whether you live or work in Ballarat, Buninyong, Creswick or surrounding areas, our climate can provide us four seasons in one day. Outdoor awnings create a lovely area of shade on those really sunny days, but if the weather turns and becomes cooler, then you can just fold up the awning and allow the winter sun to warm you up. By reducing the temperature inside your home or office, also can reduce the cost of your energy bills.
2. Expand Outdoor Space 
With many home block sizes now under 600 m2 and commercial outdoor spaces becoming smaller, making use of your outdoor area is ideal. Folding Arm Awnings and Retractable Awnings provide extended coverage overhead and extend your outdoor living and working space to allow more use by your family and clients. For businesses it can also extend your space for seating, or for merchandise displays.
3. Preservation of your Building and Furnishings
The suns rays can be so harsh. They shine through the window inside, or directly on your outdoor furniture and can fade and damage fabrics and fittings. Awnings can block the shade and reduce your furnishings exposure to the harmful sun, increasing their lifespan and saving your money too.
4. Flexibility
Our team at Davidson's Ballarat can provide a free measure and quote service to assist you with choosing the right awning style, colour, size and fabric to suit your needs. They consider everything including weather patterns and positioning of your outdoor space and custom make your awning to know it will fit perfectly.
5. Easy to Use
Another great benefit of our external awnings are they are easy to use. They can be fitted with a motorised option which is used by just the touch of a button. Fabrics are easy to clean and they come with our 4 year written warranty too.
Outdoor awnings are a versatile and reliable option for your home or commercial space, so if you're thinking of extending your outdoor area then please call us on 5333 3066, or visit our Ballarat Showroom at 617-619 Howitt Street Ballarat.