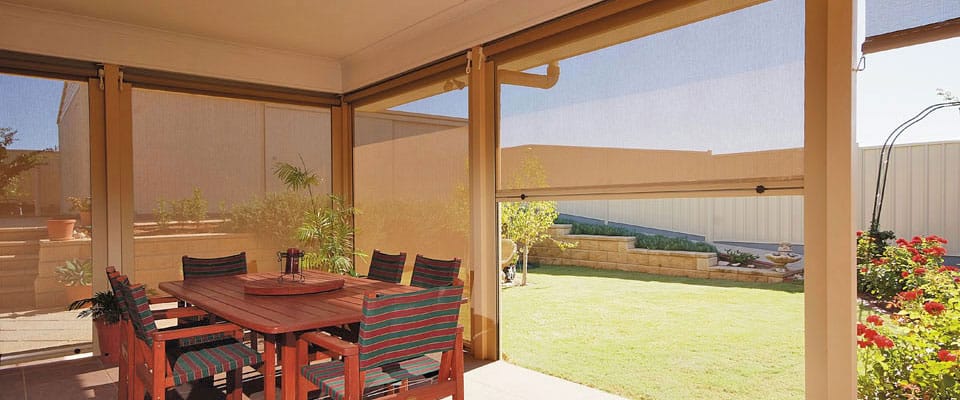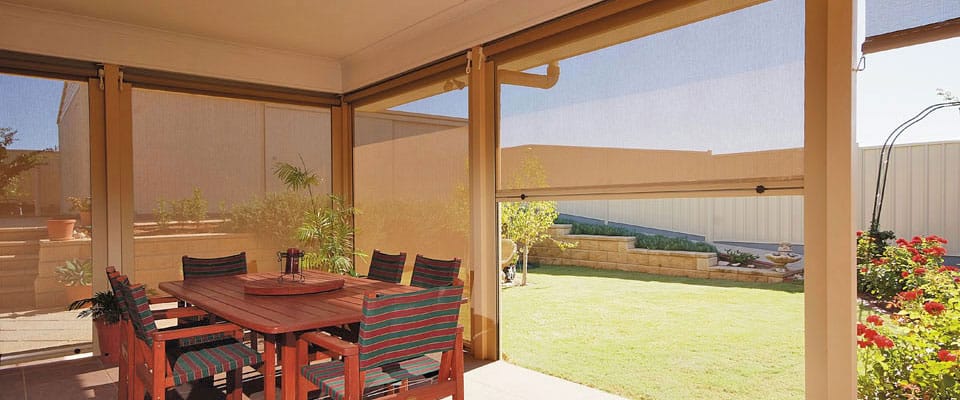 Davidson's Blinds and Shutters Ballarat have a wide range of outdoor blinds and shutters for your home or office. Creating a functional outdoor space can provide a relaxing environment all year round for you at home and for your customers. Even though we are coming into Autumn and some cooler weather, there's no reason to limit the benefits of the beautiful outdoor space you can create.
What are Outdoor Blinds and Shutters?
Outdoor blinds and shutters are similar to indoor blinds and shutters in terms of their form and function, but outdoor blinds and shutters are made from more durable fabrics capable of withstanding excessive heat, wind and rain.
Where Can Outdoor Shutters and Blinds be Used?
There are many exciting options and colours of outdoor shutters and blinds available at our Ballarat showroom. To enhance your outdoor space you can use external shutters and blinds on your home or office windows, or add them to your current decking area, balcony, patio, pergola or veranda, to entertain your clients, family and friends.
What Outdoor Blinds and Shutters are Available?
Our Ballarat customers are blessed with choice as we have a full range of quality external blinds and shutters available, let us explain in more detail.
Patio or Pergola Blinds – If you love entertaining then our Patio and Pergola Blinds are a great solution to extend your outdoor area while protecting you and your furnishings. Patio and pergola blinds can enclose large areas such as your BBQ area and outdoor seating, to enable meals to be outdoors and to hold work meetings outside too.
Outdoor Sun Blinds – Our Ballarat store has a wide choice of colours and fabrics available in our outdoor sun blind range. External sun blinds come in block out, or semi-see through if you want to maintain your outdoor view. They are a wonderful energy saver by keeping your home and office cooler in summer and warmer in winter.
Outdoor Shutters – Ballarat has some beautiful heritage and period homes and a great way to compliment these historical buildings is by adding quality outdoor shutters. Our external shutters are available in our premium aluminium range with four great options to choose including fixed panel, hinged, sliding and bi-fold. We also have a wide choice of exterior security shutters which add style to commercial and residential properties, while also adding increased thermal insulation and security.

 

Outdoor Awnings – Our Ballarat range has available Outdoor Folding Arm Awnings and Retractable Awnings. Outdoor Folding Arm Awnings are ideal for unique shaped windows or hard to access places, as they can be custom made to suit any areas. Retractable Awnings are a more flexible fabric tension system, ideal for conservatory situations, as well as pergolas. Awnings have great benefits to reflect up to 70% of heat to save energy efficiency and provide shade on a hot day.
How Can Our Team Help?
Our team at Davidson's Blinds and Shutters Ballarat are experts in outdoor blinds and shutters. They can give you the right advice on what blind or shutter would suit your home or office, or come and visit you to do a free measure and quote. For more information please call us on 5333 3066, we would love to help!